Throttle Control Units (TCU)
CROUZET provides fly-by-wire throttle control units (with both FADEC and avionic sensors), integrated auto-throttle quadrants, and auto-throttle modules. CROUZET can provide fly-by-wire throttle configurations with throttle control sensors, servo-motor modules, auto or passive throttle quadrants and reverse levers with either trigger or piggy-back options available...
See more
With more than 15,000 Throttle Control Units flying - each with a proven MTBF greater than 150,000 FH (often greater than the aircraft life itself) - CROUZET has the technology, experience and capability to provide a more optimized unit in terms of system weight, cost, aircraft integration, pilot acceptance, reliability and maintainability.

We are accustomed to working with both aircraft and system manufacturers in a collaborative environment. When coupled with our extensive and capable on-site test facility, CROUZET is able to support all FbW systems requirements, from development to certification, within the program schedule. A range of technology solutions and a flexible design approach enable CROUZET to provide customized designs. Light panels, sensors, friction level, detent position and load, avionic interface and cosmetic features all can be adapted for each aircraft program.

CROUZET is both an OEM and MRO solution provider.
Discover Crouzet's Aerospace Applications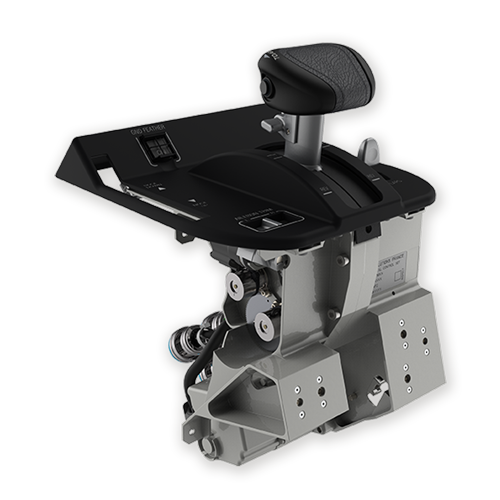 Main functions
Thrust Lever
Reverse Authorization (Piggy Back or Secondary Lever)
FADEC Sensors (Resolver or RVDT)
Avionic Sensors (RVDT or Potentiometers)
Friction Brake
Detents (Idle, Max Cruise, Etc.)
Solenoid for Reverse Authorization
Quadrant Panel Marking (Circular or Flat)
Discrete Signals
Auto Throttle Functions
Servo-Motors (One or Two)
Hand Switches (A/T Engage and Disconnect)
Electronic Control Module (Digital Bus Interface)
Other Options
Hand Go-Around Button
Light Panel
Rotator for Engine Start
Engine Stop